Few things are quite as frustrating as a parched, flakey, and uncomfortable complexion — so finding the best vitamin C serum for dry skin is key. Vitamin C is a pivotal ingredient in skincare that, in addition to protecting against external damage and collagen breakdown, increases moisture retention and thickens skin, making it a staple in your routine if you're dealing with dry skin. As a potent compound, however, there are a few tips before incorporating vitamin C into your regimen so that it doesn't exacerbate dryness. Here is all about how to integrate vitamin C into your routine and which serums you should keep on your radar to get back your plump, soft complexion.
Is vitamin C serum suitable for dry skin?
Vitamin C is one of the best ingredients for dry skin because it hinders free radicals from further depleting the cells and has a crucial role in producing compounds needed for a moist and resilient complexion.
First and foremost, due to its high antioxidant activity, vitamin C neutralizes free radicals and protects the existing collagen in the skin needed for retaining moisture. Additionally, vitamin C induces more collagen in the skin, which thickens the complexion and helps increase moisture retention, which diminishes dryness.[1]
Whether you've got dry winter skin or you're a year-round sufferer, a broken barrier can be the reason for your struggle. Vitamin C helps with that, too. Thanks to its ability to increase ceramides (lipids that make up about 50% of the skin's barrier), vitamin C speeds up skin repair and fortifies the epidermis, diminishing dryness and flakiness.[2]
What percentage of vitamin C is good for dry skin?
Because your skin is dry and more prone to reactions, you want to look out for formulas made with 10-15% vitamin C. Also, ensure that your vitamin C serum also loads soothing and comforting actives, like niacinamide, squalane, and oatmeal, and skips potential moisture-stripping agents, such as alcohol denat and synthetic fragrances.
Can vitamin C make my skin dry?
There are quite a few forms of vitamin C used in skincare. The most common is L-ascorbic acid, which is pure vitamin C and is usually formulated at an acidic pH in concentrations up to 20%. In this case, vitamin C may cause dryness, especially if your skin is already troubled. 
The best vitamin C serums
---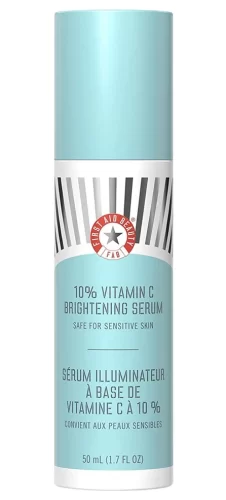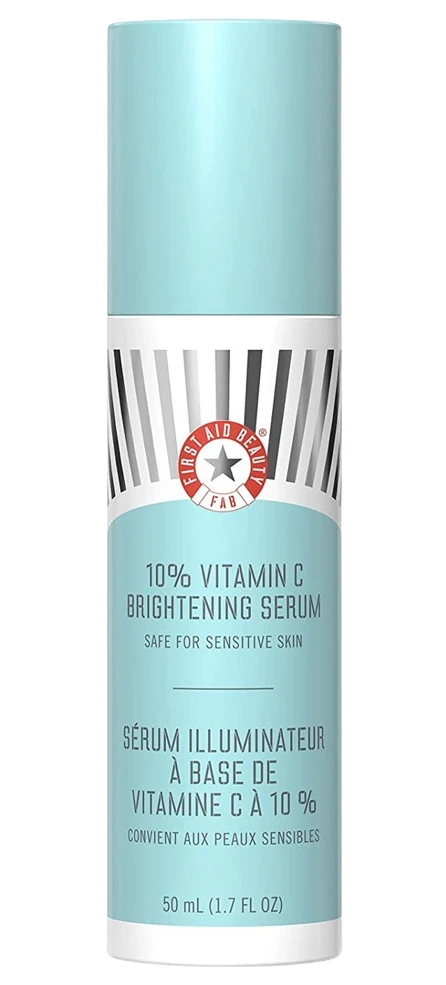 1
First Aid Beauty 10% Vitamin C Brightening Serum
This guy is sensitive-skin friendly, packing 10% vitamin C that's soluble in oil and water, meaning it acts on the skin's surface and inner layers to protect and repair. What else makes this serum great for dry skin is the squalane, colloidal oatmeal, and vitamin E, all excellent emollients that soften flakey skin and relieve dryness while helping seal moisture. It gets extra credit for the pump dispenser, which doesn't allow the daily environment to degrade the formula, so you get peak benefits every time.
---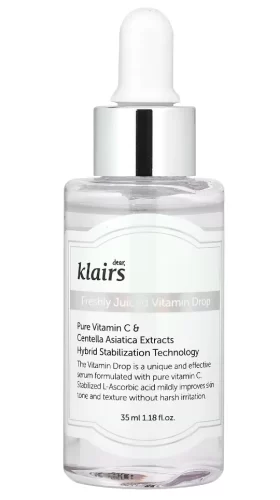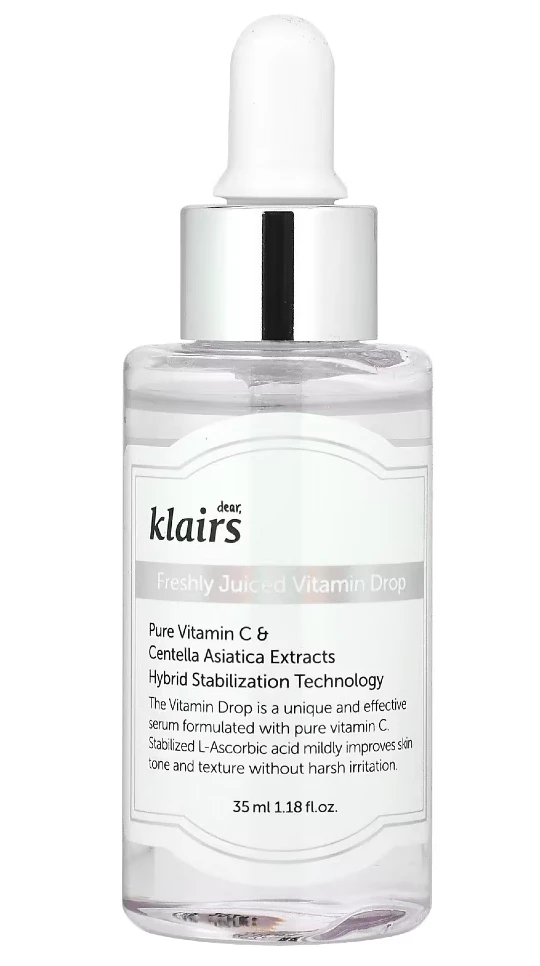 2
Klairs Freshly Juiced Vitamin C Drop
From the K-beauty aisle, there's this serum loaded with 5% pure vitamin C, which is gentle for dry skin yet potent enough to trigger significant changes, brightening and thickening the skin. Even though its pH is slightly acidic, the serum is jammed packed with Centella asiatica extract, known for its moisturizing and skin-regenerating benefits, plus a mingle of botanical extracts to nourish and comfort tight skin without irritation.
---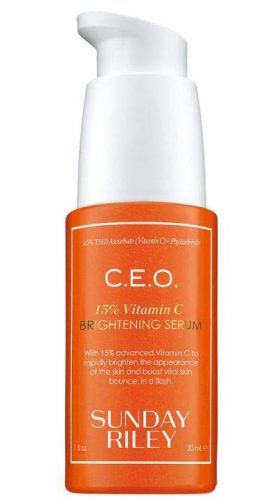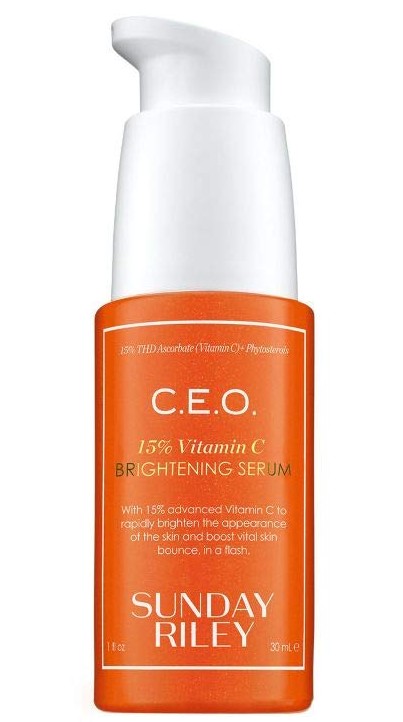 3
Sunday Riley C.E.O. 15% Vitamin C Brightening Serum
To instantly jolt a weary complexion back to life, Sunday Riley's serum teams 15% oil-soluble vitamin C with a serious amount of soybean sterols that help reduce redness caused by sensitivities, plus squalane, the go-to for dry complexions. The serum has a creamy texture that wraps the skin in a cocoon of moisture in an instant and leaves it relieved and with a healthy glow.
---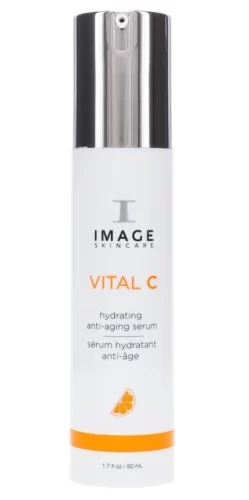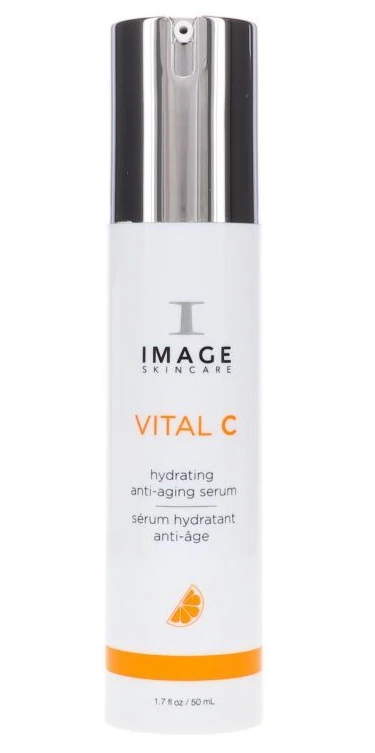 4
Image Skincare Vital C Hydrating Anti-Aging Serum
If your dryness is age-related, you may want to give this serum a shot because while it relieves parched skin, it works to soften wrinkles look and diminish hyperpigmentation. Thanks to two stable and gentle forms of vitamin C, the serum fights dryness, dullness, and fatigue, benefits that are also supported by aloe leaf juice, sweet almond oil, and peptides — all essential to improve dryness. The cult-favorite serum has a milky, creamy texture that feels like a hydrating cream and leaves skin feeling relaxed and comfy upon application.
---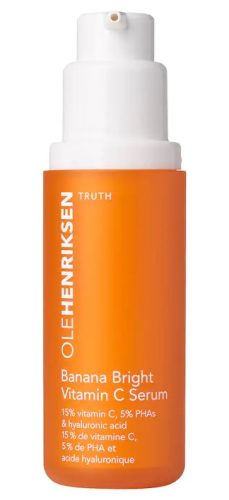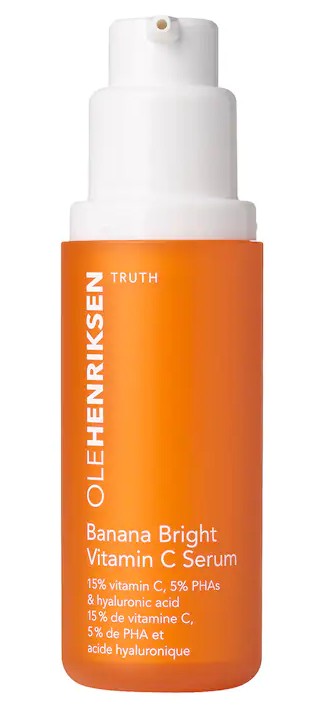 5
Ole Henriksen Banana Bright Vitamin C Serum
Ole Henriksen's serum boasts 15% 3-O-ethyl-ascorbic acid, which, despite its scary name, is a mild form of vitamin C that perfectly suits sensitive and dry skin. It works hard to improve elasticity and hydration while brightening and shielding your complexion against harmful free radicals. Other ingredients worth mentioning in this formula are squalane, hyaluronic acid, and 5% polyhydroxy acid, a gentle exfoliator that helps sloop off dead, flakey cells and reveals fresher ones while also facilitating penetration of other actives.
---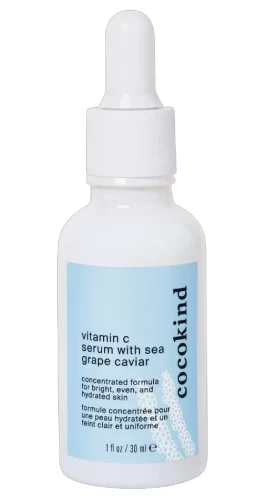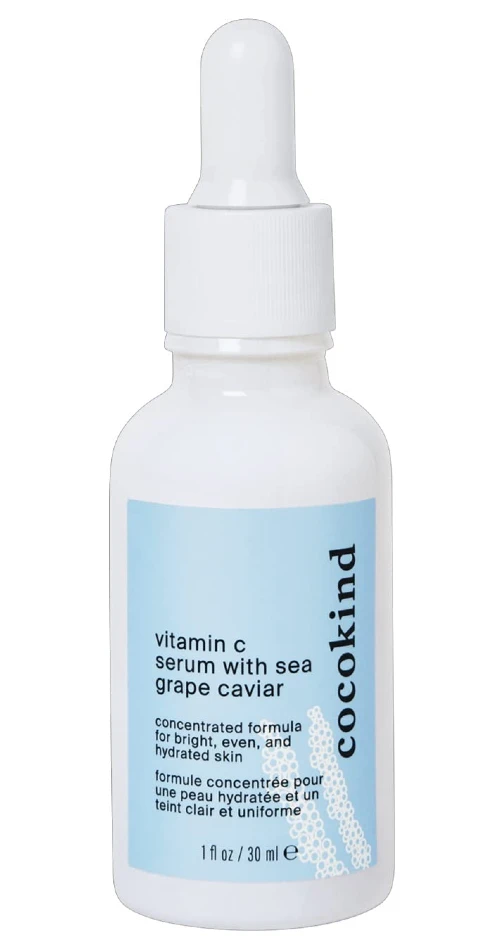 6
Cocokind Vitamin C Serum With Sea Grape Caviar
Created with one of the most gentle forms of vitamin C (sodium ascorbyl phosphate), this serum vows to induce collagen production, even tone, and boost moisture retention without bothering the skin. The mild formula is made on a base of certified organic aloe leaf juice, which gives it soothing and hydrating benefits, while the addition of sea grape caviar (nutrient-rich algae) improves water retention so your skin won't be parched again.
---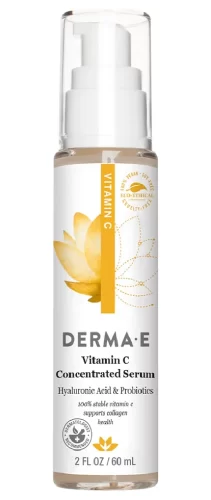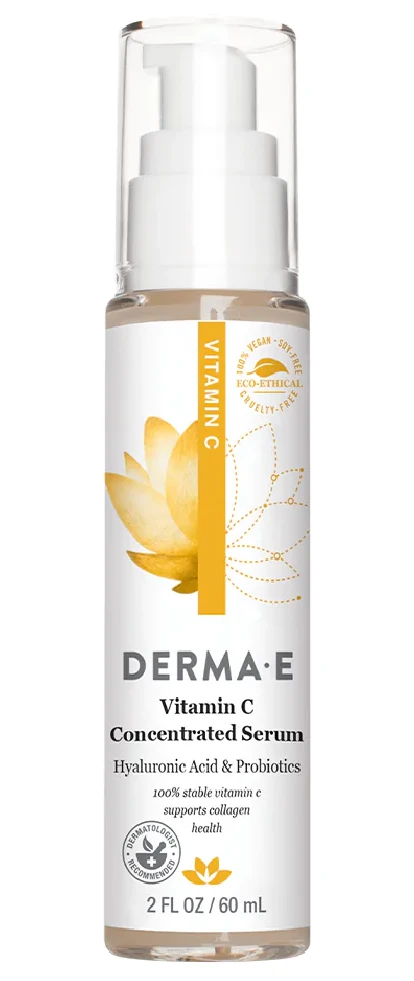 7
Derma E Vitamin C Concentrated Serum
To protect and rebalance your skin, this serum loads a juicy cocktail of vitamin C, green tea, and probiotics, to name a few. The antioxidant benefits of vitamin C are backed by vitamin E, which also acts as an emollient, meaning it softens rough patches and soothes the skin. Slather this serum twice a day on a clean complexion for the pinnacle of protection and repair.
---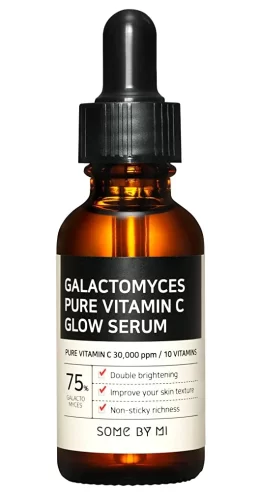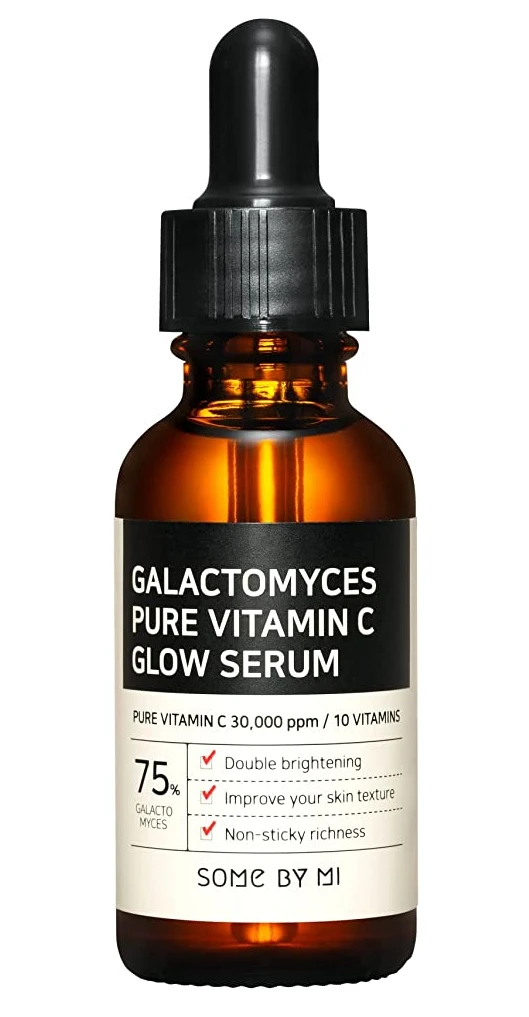 8
Some By Mi Galactomyces Pure Vitamin C Glow Serum
Some By Mi Glow Serum is an ultra-nourishing cocktail comprised of an impressive amount of 75% galactomyces (moisturizing and soothing ferment) and 3% vitamin C to reveal a luminous tone and heal moisture-depleted skin. There's also niacinamide, allantoin, and propolis for an extra dose of nourishment and moisture. All whilst it skips alcohol, fragrances, or any other unnecessary compound that may strip the skin of moisture.
---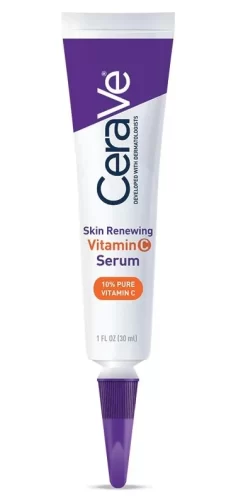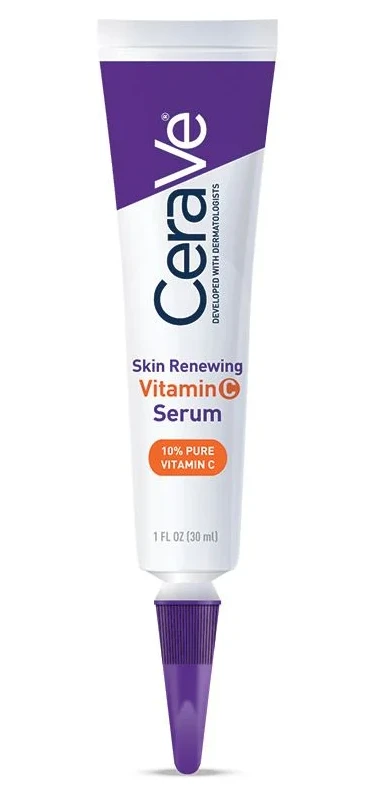 9
CeraVe Skin Renewing Vitamin C Serum
Ceramides and cholesterol are excellent for dry skin, and this serum features them both. Coupled with 10% vitamin C, CeraVe Skin Renewing Serum aims to reinforce the skin and fortify the protective barrier while humectants sodium hyaluronate and panthenol draw water into the skin for a plumper look. What we like less about this formula is that it features alcohol denat — which can be drying for some — as the sixth ingredient.
---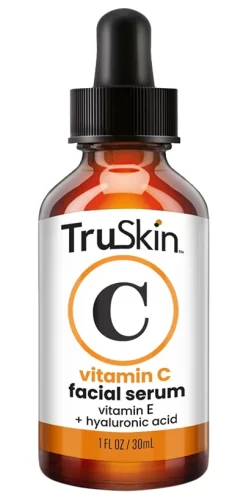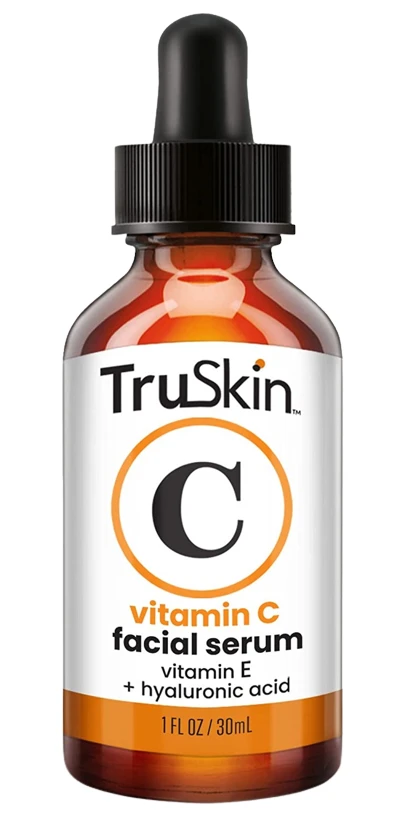 10
TruSkin Vitamin C Serum
This vitamin C formula has raked in thousands of Amazon review raves for its wallet-friendly price tag and the results it delivers. Besides a stable form of vitamin C, the formula includes hyaluronic acid, jojoba oil, and vitamin E, all teaming up to hydrate, retain water in the skin and soften rough patches. The liquid formula absorbs in no time and doesn't leave the skin sticky or tacky, pairing perfectly with your oil-based moisturizer to make a winning duo against dryness.
---
Footnotes
Women's Concepts uses reliable sources, including dermatologists' insights, clinical trials, and scientific journals, to find accurate information and support all the facts shared in our articles. All statements and claims have clear and legit references. Read our editorial policy to learn more about our sources of information, our process of researching and fact-checking the content, and how our team strives to keep all articles updated, completed, and trustworthy.
Oregon State University, Vitamin C and Skin Health
Kim KP, Shin KO, Park K, Yun HJ, Mann S, Lee YM, Cho Y. Vitamin C Stimulates Epidermal Ceramide Production by Regulating Its Metabolic Enzymes. Biomol Ther (Seoul). 2015 Nov.