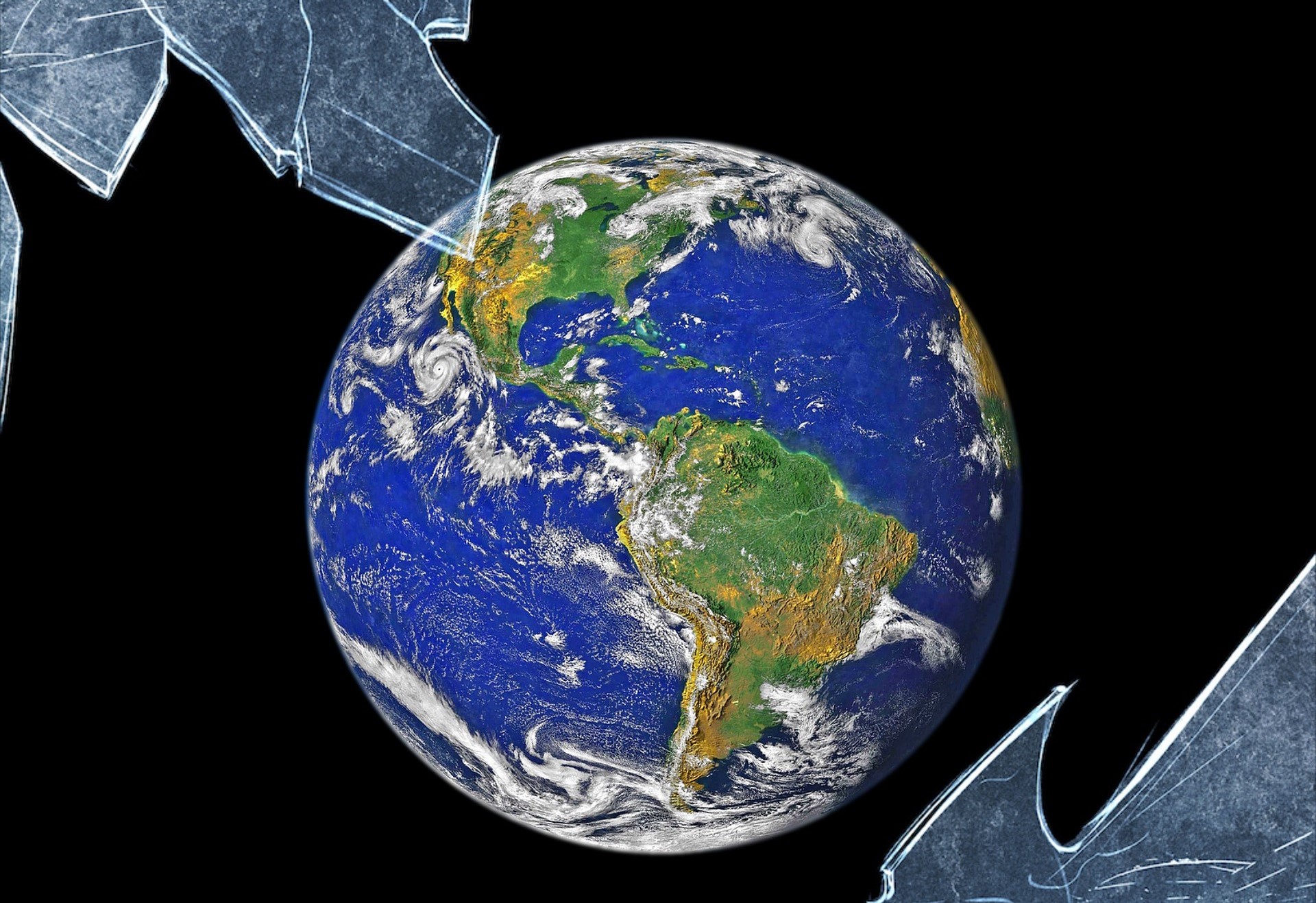 The world faces multiple challenges for the balance of 2022, into 2023, and it may even extend into 2024. Multiple negative forces are combining to slow the dramatic growth of the pre-pandemic decade. 
A recent Wall Street Journal article, 'COVID-19 is Still Killing Hundreds of Americans Daily', reminded us that the disease is on pace to remain the third-leading cause of death in 2022. The war in Ukraine continues to place a harsh toll on people's lives and feeds global economic uncertainty, especially with energy prices. 
The retail industry recovered quickly from COVID-19, but Inflation is now placing additional burdens on growth. Supply chains are in some cases doing better, but shortages and long waits on basic products continue. 
Adding to my popular webinar series, 'The Disruptive Future of Retail', this article expands on the global economic and retail headwinds section included in the September 2022 edition. The overall presentation examined the challenges we are facing, how the retail industry is responding, and where technology will take us next. 
Global Economies Facing Dramatic Slower Growth
The July 2022 forecast from the International Monetary Fund points to substantial lower growth this year and next, especially in advanced economies.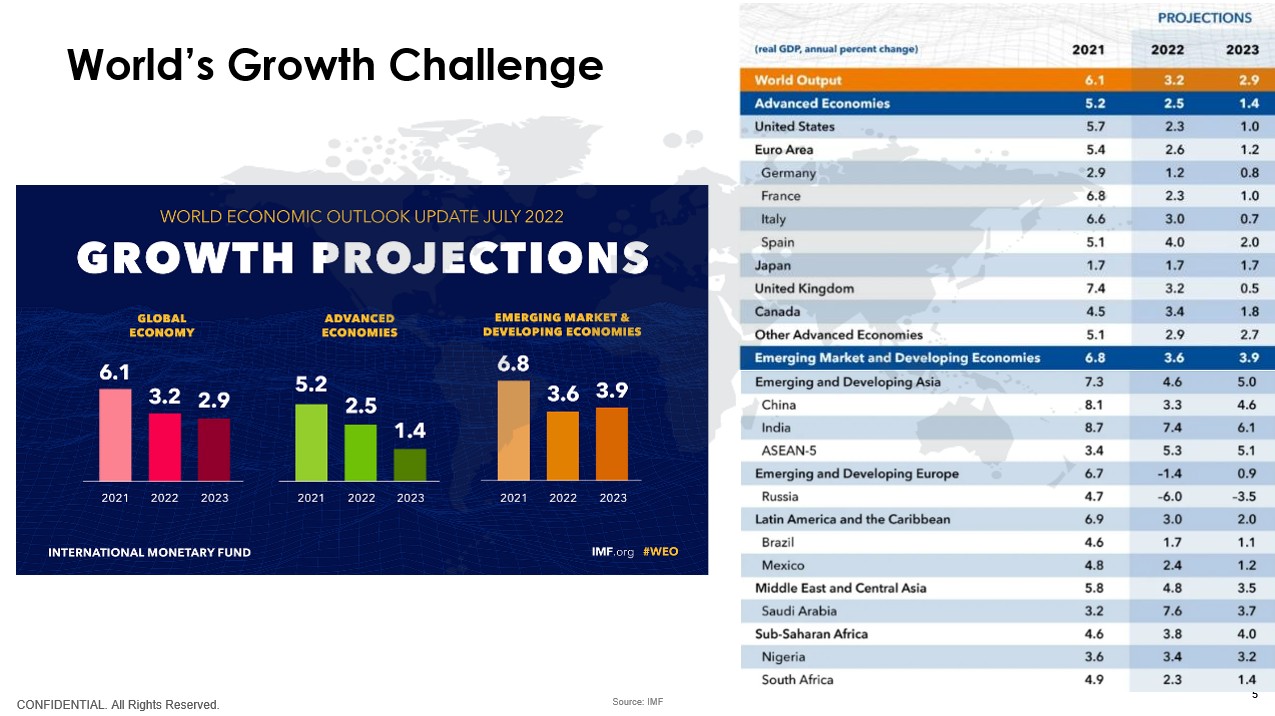 Similarly, Euromonitor in their September 2022 forecast, projected only 2.4% growth for advanced economies in 2022, dropping to 1.6% in 2023, meekly increasing to 1.8% in 2024, and averaging only 1.5% between 2025 and 2029.
Not much better news from the World Bank in their latest forecast. "Global growth is expected to slump from 5.7% in 2021 to 2.9% in 2022— significantly lower than 4.1% that was anticipated in January. It is expected to hover around that pace over 2023-24, as the war in Ukraine disrupts activity, investment, and trade in the near term, pent-up demand fades, and fiscal and monetary policy accommodation is withdrawn."
Global Risks are Increasing
The world continues to face increasing political, military, economic, and environmental risks.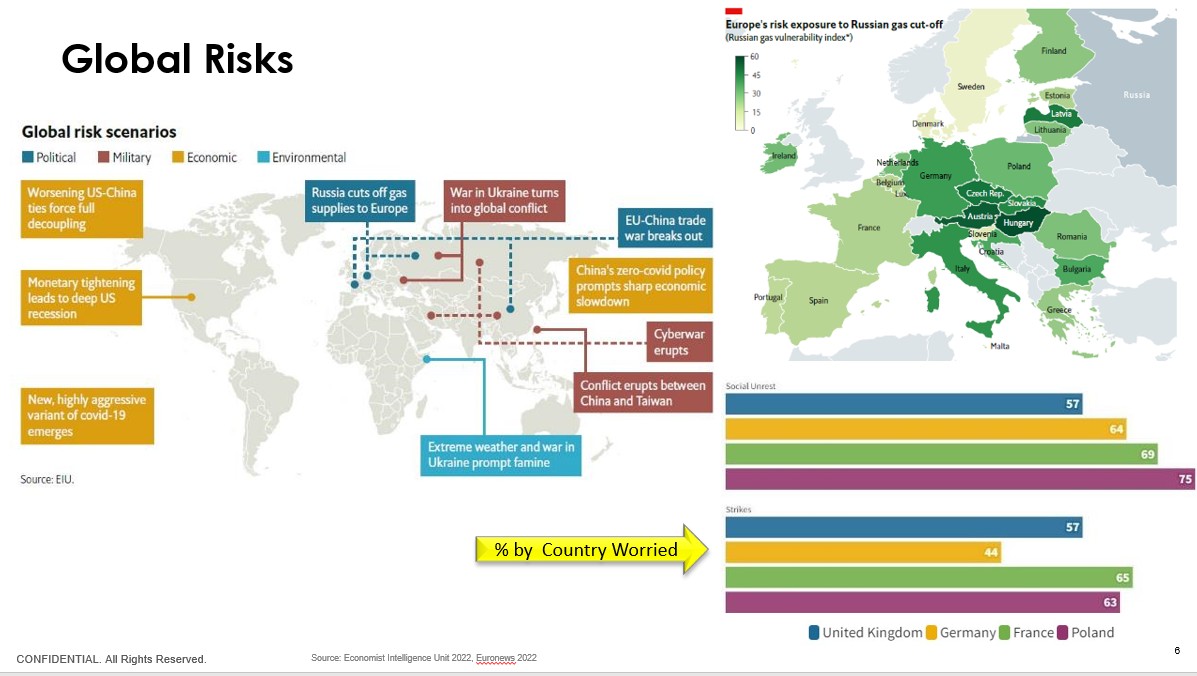 Sparked the by Ukraine War, in Q1/2022, the Economist Intelligence Unit downgraded the operational risk score for 60 countries which was a 54% increase in downgrades when compared to the previous quarter. Both Russia and Ukraine are major suppliers to the world for wheat, representing 30% of global trade in the commodity. Russia is also the world's largest natural gas exporter and Europe which imported 40% of its gas last year, faces a cold winter ahead.  
A substantial majority of people surveyed in four European countries said they were worried about social unrest in the coming months. In France, 4 in 10 people said they wanted to see a return of the Yellow Vests protest movement. "Pessimism seems to be widespread: few Europeans expect that the cost of living crisis will end any time soon, with over one in three people surveyed uncertain that it will ever end."
COVID-19 Disruptions Continue
People are still dying from COVID-19 and permanent disruptions are taking place in labor forces.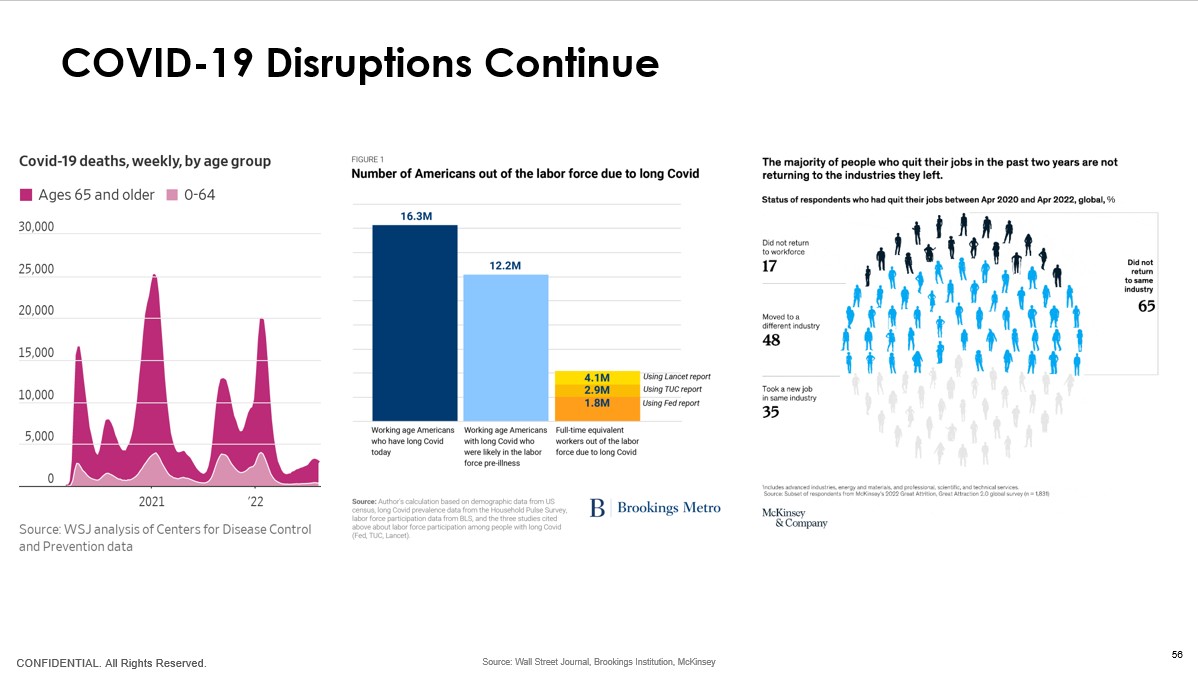 Recent analysis from the Wall Street Journal indicates that about 320 people are still dying from COVID-19 in the United States each day, and the average was above 400 before the Labor Day Holiday weekend. The rate is much lower than the pandemic peak, including the 2,500 that were dying from the Omicron variant earlier this year. Roughly 85% of the deaths are for people 65+ or sicker more vulnerable individuals. 
According to the Brookings Institution, around 16 million working-age Americans (aged 18 to 65) have long COVID today. Of those individuals, 2 to 4 million people are out of work due to long COVID. "The annual cost of those lost wages alone is around $170 billion a year (and potentially as high as $230 billion)." 
Long COVID was only one component in people reassessing their working career. According to McKinsey, "Many workers aren't just considering a job change—they're leaving industries entirely. Globally, only 35% of those who quit their jobs in the past two years took a new one in the same industry." Just under 20% did not return to work and 50% moved to a new industry.  A July 2022 viral Tik Tok video (at 8.2+ million views to date), added 'quiet quitting' to the continuing COVID-19 labor disruptions. 
Inflation Meets Shrinkflation for Breakfast
Inflation is a growing challenge for the majority of economies around the world.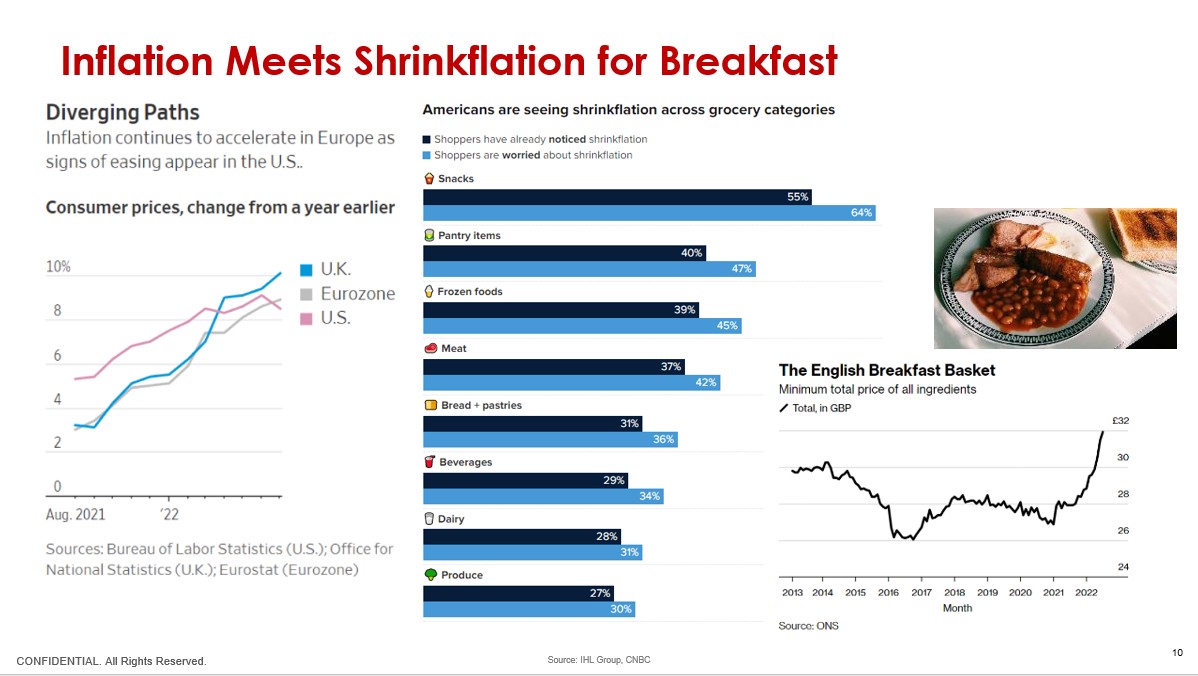 A June published Pew Research study of 44 advanced economies found that, in nearly all countries, consumer prices have risen substantially since pre-pandemic times. In 37 of the 44 nations, the average inflation rate in the first quarter of this year was at least twice than the first quarter of 2020 when COVID-19 was spreading. In 16 countries, Q1 inflation was more than 4X the level of two years prior. Turkey had the highest Q1 inflation and Israel had the fastest growing at 25X the previous two years.
While aggressive central bank action is dealing with inflation, 65% of consumers are now worried about shrinkflation (packages getting smaller at same or higher price) with Tik Tok again virally sharing the video evidence. In response, 49% of consumers are switching brands, 48% are going generic, and 33% are buying in bulk to get ahead of the problem. 
A favorite inflation indicator has become the English Breakfast Basket. According to Bloomberg, "the average cost of ingredients — using standard pack sizes such as a dozen eggs and pint of milk — has jumped nearly 14.5% from a year ago, with an average increase of 2.8% in June alone. It costs £31.46 ($37.62) to buy all the products required, up from £27.92 in June 2021."  
Retail Meets the Unlucky Generation
In April 2020 at the peak of the pandemic, according to the IHL Group, retail transitioned to essentials and self-preservations. Specialty soft goods sales that very difficult month were down nearly 90%, department stores sales were negative 45%+, and restaurants sales were down nearly 49%. Those ugly days are behind us, but inflation is introducing new challenges.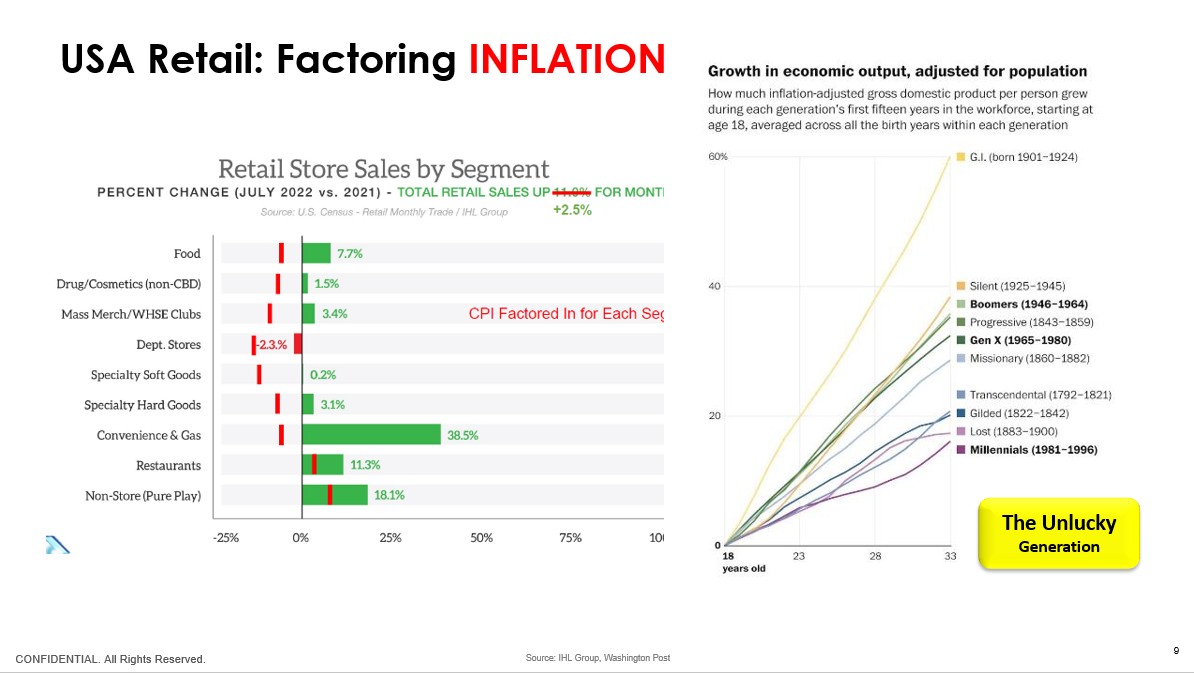 As noted above, inflation is now having a negative impact on 'real' growth in multiple retail sectors.
Economic challenges are impacting each generation differently. "After accounting for the present crisis, the average millennial has experienced slower economic growth since entering the workforce than any other generation in U.S. history. Millennials will bear these economic scars the rest of their lives, in the form of lower earnings, lower wealth and delayed milestones, such as homeownership."
Inventory Distortion Keeps on Growing
In 2022, the global retail problem of inventory distortion had grown to over $1.9 trillion, an increase of 12.7% since 2020, a year that included panic buying.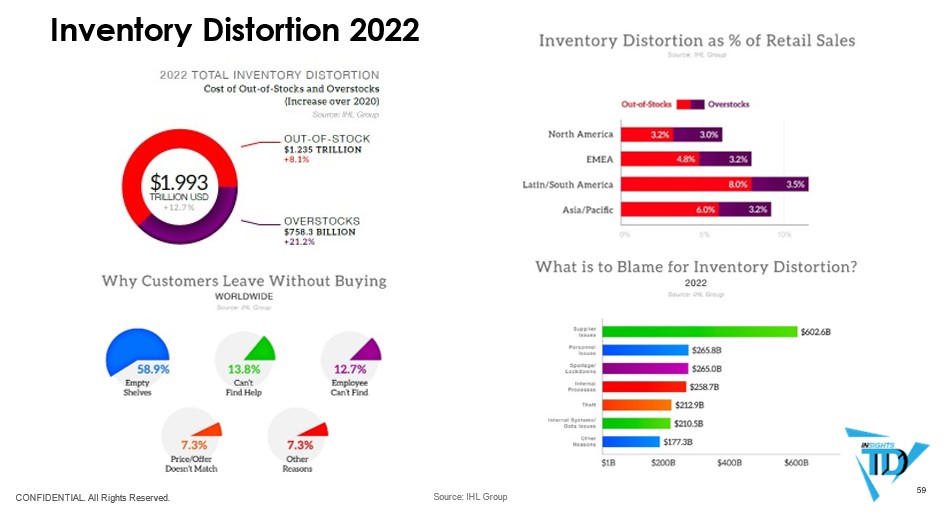 The good news is that most regions are improving on this metric. In North America, the problem declined 3.2%; in Europe it declined 13.6%; in LATAM it was down 2.8%; but in Asia it was up 42.6%.
"Nearly $1 trillion of the $1.9 trillion inventory distortion issue is the result of a just-in-time inventory system that relied too heavily on production in a small handful of countries." Supply chains continue to be strained and a full re-assessment of optimal production strategies is underway in many boardrooms. 
Retail Violence Needs to be Addressed
2021 and the first quarter of 2022 saw increased violence and fatalities in the retail industry.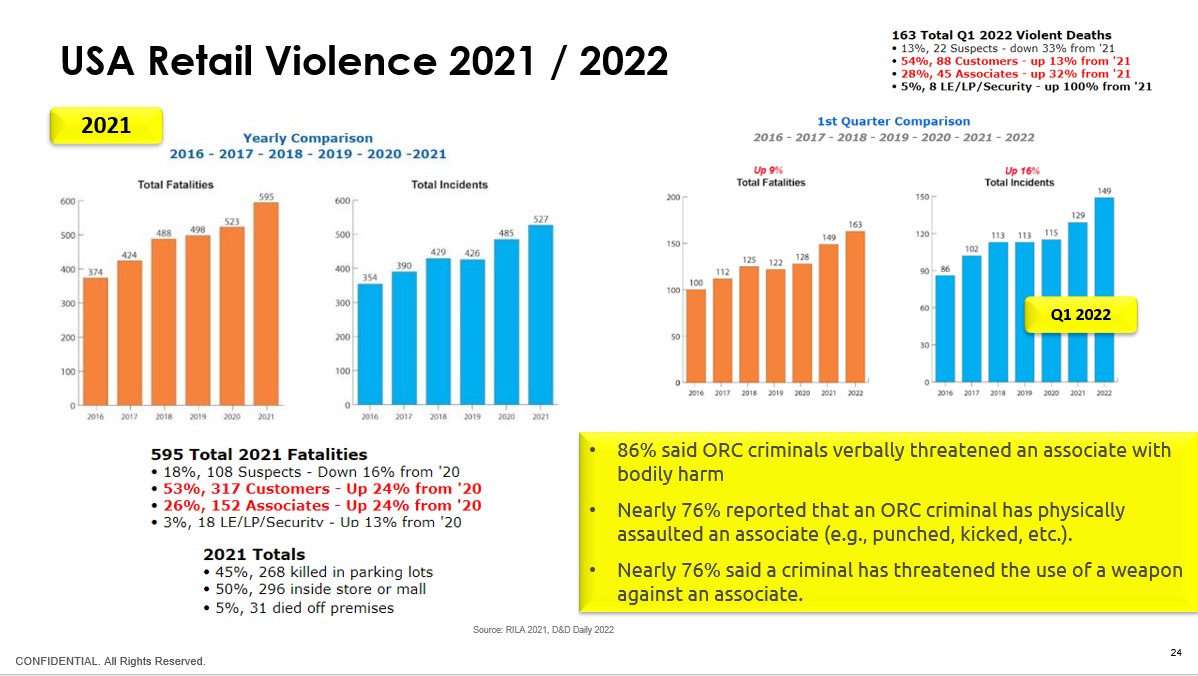 Alarmingly, USA retail customer fatalities were up 24% in 2021 and are up 13% in Q1/2022. Store associates' deaths were up 24% in 2021, and are up 32% in Q1/2022. 
USA is not alone in seeing increased retail violence. Some 106 of UK's leading voices wrote to Police and Crime Commissioners in England and Wales about their concerns with increased retail violence. Similar trends are emerging in Canada. 
Above seven charts point to substantial economic and retail headwinds ahead. As I discuss in more detail in my latest edition of the 'Disruptive Future of Retail', the future is not bleak. We will eventually get inflation under control, but it may take a recession to do it. Technology will continue its long march to provide the tools to deliver continuous improvement towards a brighter future for us all.