Nike athlete and Super Bowl LVI champion Odell Beckham Jr. is suing the swoosh for over 20 million.
Odell claims Nike is withholding millions of dollars and making up excuses not to pay him.
The troubles start back in 2017 when adidas was looking to sign him for what Odell claims was a deal worth up to $47 million. As part of the first Nike x Odell deal, Nike had the option to keep him if they matched a competitor offer so Nike exercised this clause and matched the adidas deal so they could keep Odell. Odell now claims Nike has not matched the adidas deal and have withheld millions of dollars in payment.
In a social media post uploaded to his Twitter account, Odell stated:
"When Nike exercised its right of first refusal to match the Adidas offer and not only kept me as a Nike Athlete, but also made me one of their Brand Icons – my dream had been fulfilled."

"Unfortunately, Nike did not honor its commitments. Throughout our partnership, I have kept my promise and fulfilled my obligations to the brand. I am extremely disappointed that I've had to take these measures to ensure Nike fulfills their obligations and promises."
Full statement: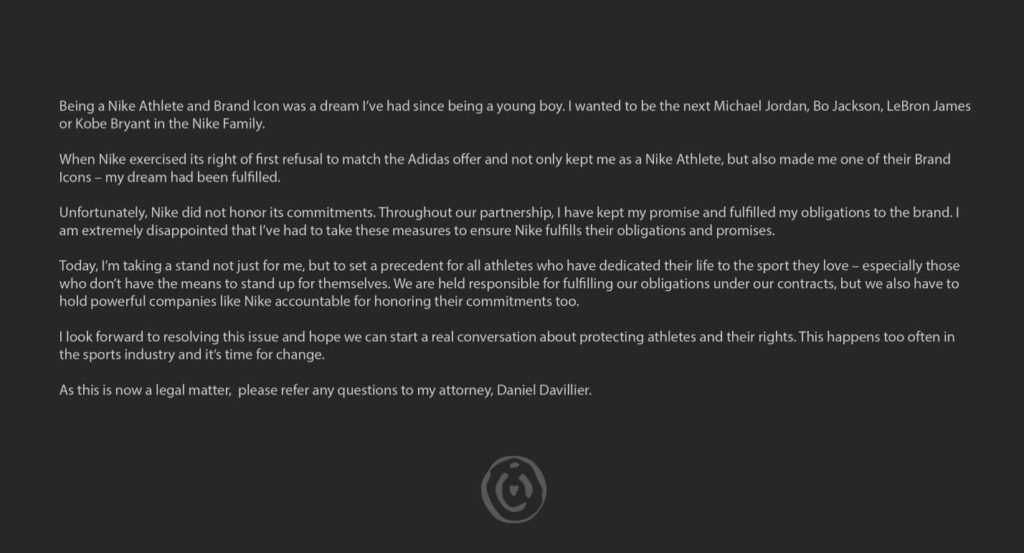 If you are curious what Odell's Nike contract looked like, check it out below!